Federal Emergency Management Agency (FEMA) updates its mobile application with functionality that allows citizens to contribute with images to crisis response.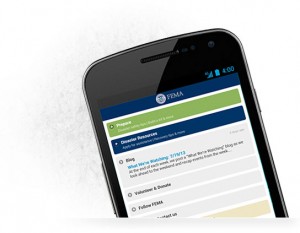 When Hurricane Sandy hit US in 2012, there where more than 4,000 on-line volunteers who helped FEMA to classify and categorize photo that citizens had sent in to help the authorities. FEMA says it is usually citizens who are the first on site and can provide important information at the beginning of a crisis event. As a result of the successful crowdsourcing effort during Hurricane Sandy, FEMA has now included the functionality for citizens to upload photos with descriptions and geotagging in their smartphone application.
FEMA Sandy 2012 – Crowdsourcing Mapping Video
YouBongo already had this function one year ago, where it's is possible for users to upload pictures to an observation (with geographic coordinates and time) that citizens creates. Everyone can take part of the observation description and the pictures uploaded in YouBongo without an account. For users who have an account (easy registration via YouBongo) can classify information as important, informative or unimportant, offensive, etcetera. This lets users collaboration (crowdsourcing) on observations of the public space or social issues. The crisis management during hurricane Sandy shows that crowdsourcing can be an important tool to get access to information from citizens, that helps the authorities to plan and coordinate the response.